Building Alterations February 2018
The car park entrance is up and running again so please enter at the front of the building and exit at the end of the newer car park area.
The waiting room is now very spacious and there is a new children's area.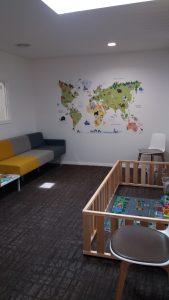 Appointment Reminders
We now have an automatic text reminder system which will send you a text message at 3pm the day before your appointment. Please keep us up to date with your mobile phone number.
Staff Update
From December 2017 to June 2018 we will have a registrar Dr John Irvine with us. Registrars are working under a General Practice training programme and have usually worked in the hospital system before joining us. Registrars are available to see patients of all doctors.
Blood Pressure & Weight Checks
Do it yourself! We have had our machine for over a year now and it is very easy to use. You are welcome to pop in at any time and use the machine for checking your height and weight and/or your blood pressure. The reception staff can help you the first time.
Travel Vaccinations
If you are heading overseas and need to check on the vaccinations needed you can make an appointment with Nurse Sue to discuss this. We carry limited stocks so make sure you look into this well before you go away.
See the Travel Vaccination page to download an information form.
Costs vary depending on the vaccines required. When we have received your information form we can provide a quote.
Laboratory tests
Unfortunately we can no longer offer a blood testing service. The nearest services are:
New Brighton , 18 Union Street, open 7.30am to 4.30pm Monday to Friday
Linwood, 1/197 Linwood Avenue, open 7.30am to 4.30pm Monday to Friday & 9am to 12pm Saturday
Burwood Hospital, open 8am to 4pm Monday to Friday