"Well-being, together | Waiora, tahi"
Book anytime …
ConnectMed allows patients to book their appointment 24 hours a day, 7 days a week, including any same-day available appointments.
Save time …
See your test results online and order repeat prescriptions easily and quickly through the patient portal.
Why this will help you with looking after your health …
We believe the patient portal is an important tool in managing your healthcare, it allows you to book your appointments and order prescriptions when it best suits you, and not just during working hours.
Having access to your test results allows you to quickly see your results. You will be contacted with your result information but by being able to see the results when they come back into our system you will have immediate access to the information.
The portal is not designed to replace the quality of care we are committed to providing you; it is a tool to help you access the care you need quickly and seamlessly.
Registering for patient portal …
For all patients over 16 registering for the patient portal is easy and any of our reception team are very happy to talk you through the process.
Please check out the following useful links on how to get the best out of your patient portal.
Creating a ConnectMed account
How to book an appointment online
Requesting a Repeat Prescription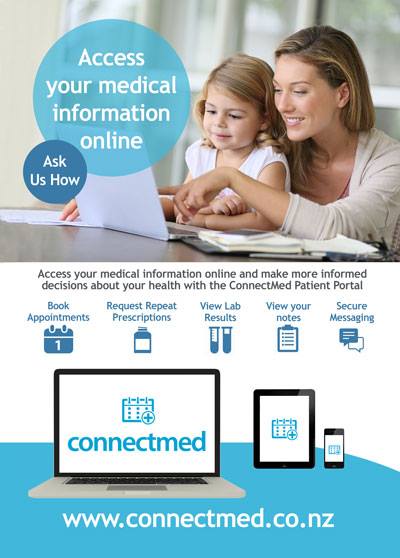 Forgotten password
To reset password, go the password reset page and type in email address. Click Reset password; a link will be sent to pts email address to enable them to update their password.
Once email arrived, enter new password and confirm. This completes the process.
Update mobile
Log in to Your account and click on the Cell Phone tab in the top menu.
Select mobile prefix from drop down list and enter mobile number.
You will be sent a new 5 digit SMS code – enter into the cell phone tab and confirm.
Change password
To change password, log in to account and click on Password tab in top menu.
Enter current password and choose a new password – enter it twice. Click Change Password to save the new password.
Changing Email address
To change email address, log in to account and click on Email tab in top menu.
The current email address will appear, enter new email address twice and then enter password.